Korniche Roof Lantern Trade Prices
Get in touch for supply only lantern roof prices from Korniche, or ask us about our nearest installer.
Request A Quote
Korniche Roof Lanterns
Aluminium framed glass roof lantern.
Pre-drilled eaves beam, all in one glazing retainer and more for a faster installation.
Robust and stronger design capable of holding up to 3.5kN/m2.
Performance glazing, thermal PVC T bar and thermally broken eaves beam for thermal efficiency
Slim profiles for enhanced natural light completed with hidden fixings.
Bespoke designs and a range of colours.
Stunning Korniche Roof Lanterns
We supply outstanding Korniche roof lanterns to all trade customers in Bury St Edmunds, Ipswich, Norwich, Peterborough, Colchester, Maidstone, Canterbury, Sittingbourne and throughout the surrounding East Anglia, Kent and South East of England areas. These are ideal for home improvement projects that are looking to have a grander sense of space with a taller ceiling and more connection to the outside.
As they are made from aluminium, your client can benefit from slimmer sightlines which allow natural light to flood in. This, combined with the enhanced thermal performance, may see a decrease in energy bills. This is because of less reliance on artificial lighting as well as central heating.
Korniche roof lanterns are incredibly robust. Aluminium is strong by nature. However, it is also lightweight. This allows for a faster installation time that won't leave you or your client waiting around for parts.
We can also offer these incredible products in a wide range of colours and finishes. This means that you can provide your clients with a bespoke fitting that better matches the aesthetics of their home. Customisation options are increasingly becoming a must for homeowners so our Korniche roof lanterns may be the ideal solution for your project.
---
Fast Installation
Skylights and lantern roofs are usually the last things to be fitted for flat roof extensions. Our Korniche roof lanterns are crafted to be fitted quickly and easily. These are weatherproof as well as secure. To ensure this speedy installation, these will be delivered to your site in kit form.
Korniche roof lanterns will be delivered with pre-drilled eaves beams which will help to reduce installation time significantly, all in one glazing retainer, one bolt spas and clip fit top and end caps. For a universal fitting, we deliver each Korniche roof lantern with a 5mm Allen key. Tapered washers are to ensure that everything is fully tightened and held in place for a precise and secure assembly.
Finally, to speed up the process further, Korniche roof lanterns require no sealant during construction. All seals are pre-fitted to the bespoke design, so there is no mess and no fuss or wasted time.
View our Korniche Roof Lanterns Brochure
Benefits of Korniche Roof Lanterns
Robust Profile
Korniche roof lanterns have been designed with strength in mind. Utilising aluminium as the primary material for the frames, this can support loads that reach 3.5kN/m2. Aluminium die casts have been crafted to ensure that the eaves beams are held together tightly. They will not be affected by the elements – rain, wind or snow.
To strengthen the structural integrity of this design, Korniche roof lanterns are also manufactured with an anti-crush tube. This is an internal feature that won't stop the enduring aesthetics of this design. This will ensure that this installation won't bend or warp when secured into place.
The robust Korniche roof lanterns also has custom extruded 6060 T6 sections as an internal bracing system. This allows for great depth when viewed from below. For aesthetic appeal, traditional ogee detailing is fitted on the lower parts.
This lantern roof meets and even exceeds standards that have been set within the industry. They can withstand any weather condition, also when supplied at a massive 6m x 4m.
---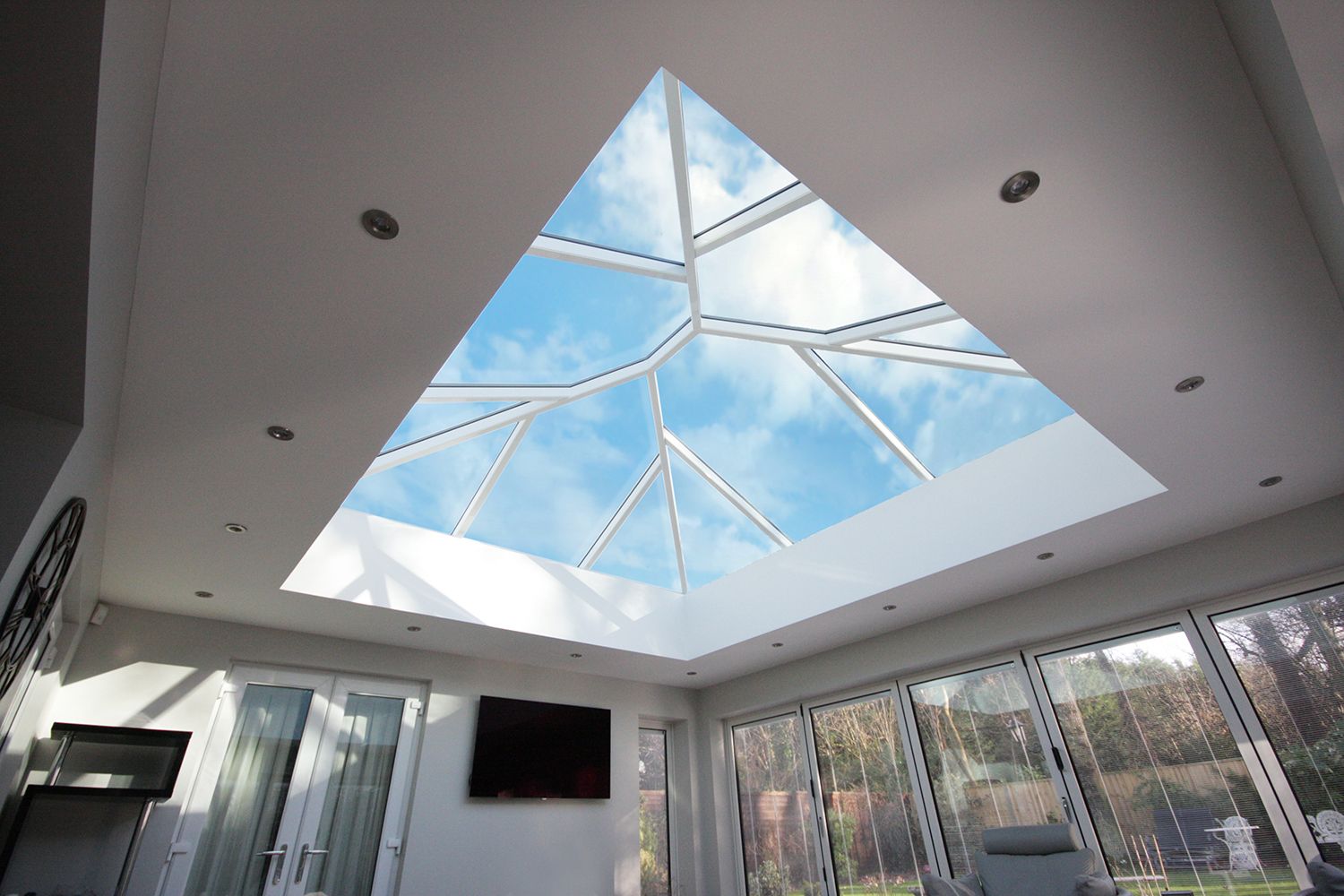 ---
Energy Efficiency
Korniche roof lanterns provide outstanding energy efficiency for homeowners. This is because they are designed to trap heat within homes and stop it from escaping. Not only this, but less reliance on artificial lighting will also enhance its energy-efficient qualities.
Each of these skylights is constructed with outstanding performance glazing which can be supplied in either blue neutral, clear or aqua. This glazing is self-cleaning and can benefit from U-values in the range of 1.0 to 1.2. Korniche has designed a unique PVC T-bar which clips in and is fully compatible with the gold standard Q-Lon gaskets.
Thermally broken eaves beam utilising pairs of polyamide sections creating a thermal barrier which is innovative for aluminium, a traditionally conductive material. Injection moulded silicone seals reduce the need for the sealant to be done once installed. All you have to do is place the glass, and it is done. Q-Lon gaskets have some of the best sealing function too.
---
Slim Profiles
As Korniche roof lanterns are constructed out of aluminium, this will allow for slimmer profiles and sightlines. This will enhance natural light exposure without compromising on the strength of the product. Patent-pending end bosses are used to maintain the stunning aesthetic appeal. This is further reinforced throughout the hidden fixings and unbroken sightlines. Your client will be over the moon with the clean lines that our Korniche roof lanterns can provide.
---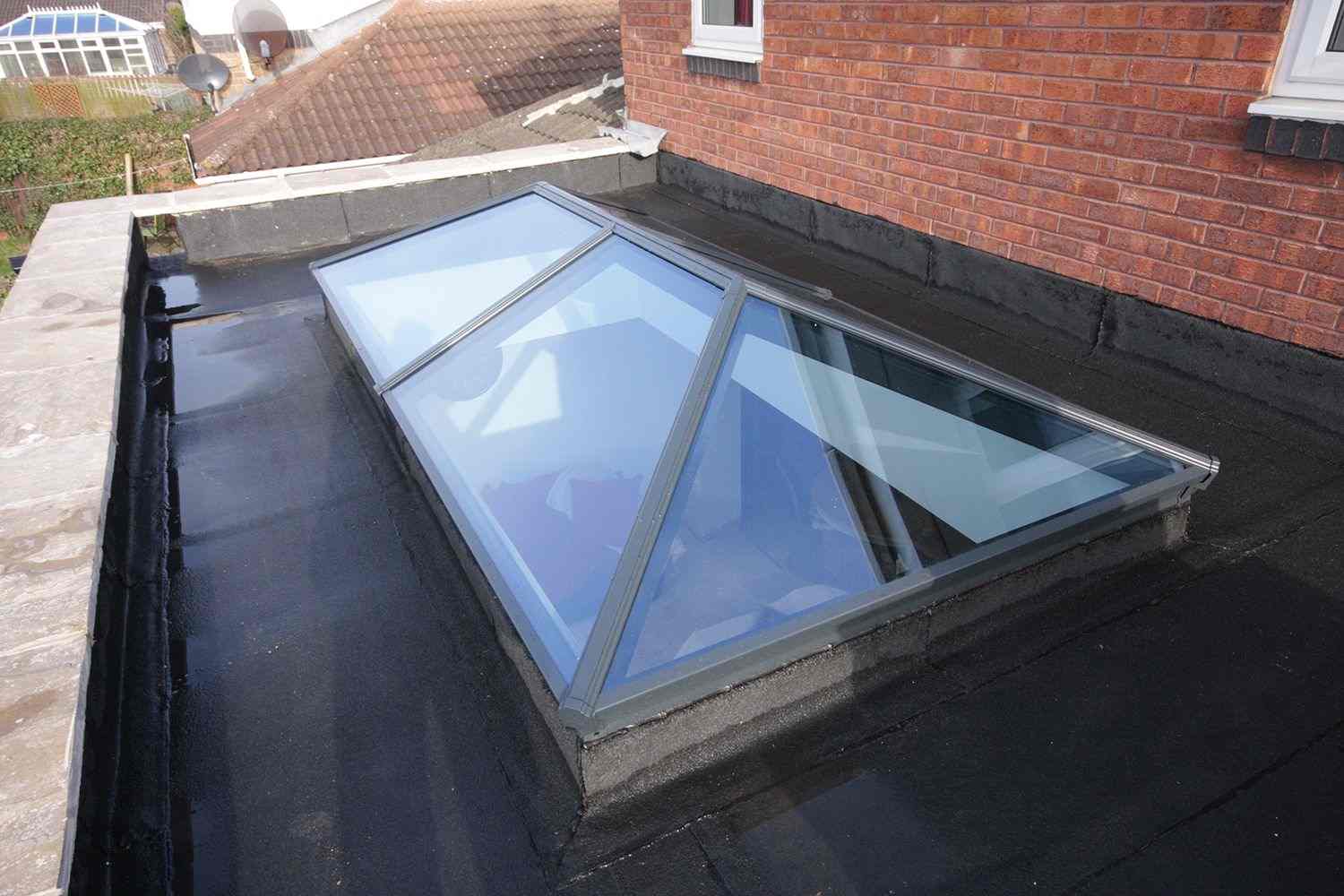 ---
Korniche Roof Lanterns Brochure

---
Korniche Roof Lanterns Prices
Reach out to us today for more information on our Korniche roof lanterns. You can do this by filling out our online contact form. One of our team members will get back to you with everything you need to know.
---